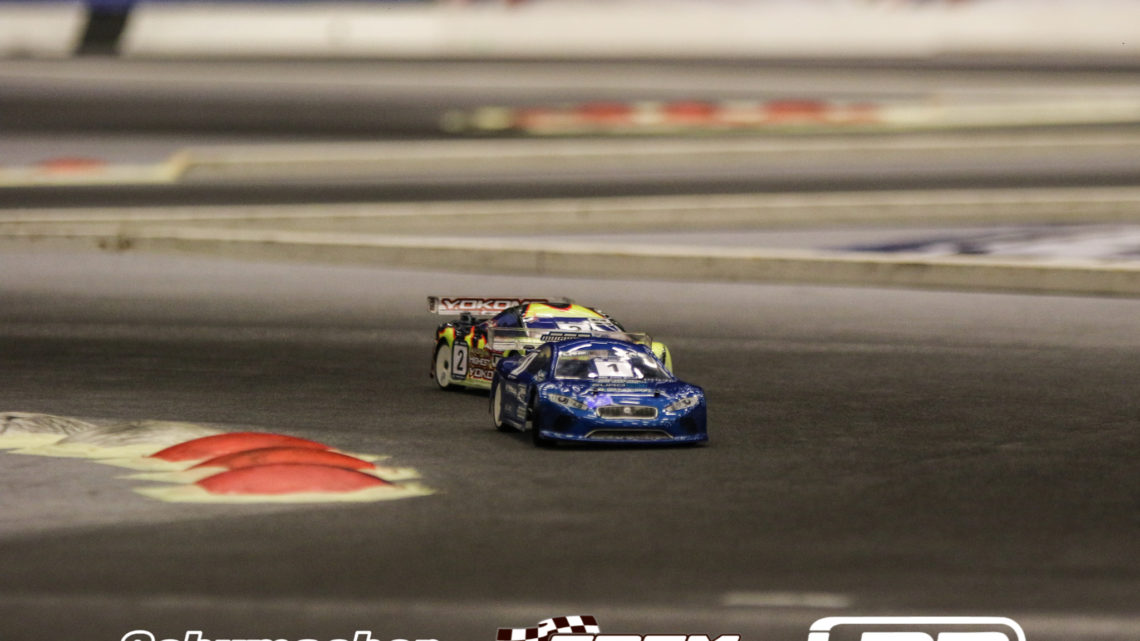 Viljami Kutvonen wins his second DHI Cup
januar 13, 2019
After a succesful campaign in A1 for Viljami Kutvonen and Mugen Seiki, the pressure was on for Ronald Völker in the second of three finals in Odense.
For A2, Kutvonen once again made the start while Ronald Völker had to play catchup for the most of the heat. The battle for top honors raged all the way to the last lap of the race.
Here, Ronald Völker attempted to make a number of attacks on Kutvonen, but the finn constantly managed to withstand the pressure. Then, on the very last metres of the heat, Völker managed to get by, but he collided with Kutvonen in the process.
Völker had to back off and then responded with another overtake, but the 8-time DHI Cup champion just couldn't make it stick, and Viljami Kutvonen ended his 24-lap heat just a fraction in front of Völker.
Winning A1 and A2 back to back means that Viljami Kutvonen and Mugen Seiki has already won in Modified with A3 still to go. The 2019 victory is Viljamis second, after he won back in 2017.
This left the A3 final in Modified as an open battle for 2nd and 3rd between Ronald Völker in 2nd and Patrick Hornum, Patrick Danielsen and David Ronnefalk, all running on the same score of ten points.
Völker cruises to A3 win
With a decided title, nine drivers started out in A3. Ronald Völker started out in superb fashion, securing a commanding win. Behind Völker, the pressure was on in the fight for 2nd. Jakub Rozycki from Poland held P2 for some time, but he lost out on a mistake. At the end of the heat Patrick Hornum ended up taking second followed by Dionys Stadler and Rasmus Callesen who started P10.
This makes Viljami Kutvonen the 2019 DHI Cup champion in modified in front of Ronald Völker and Patrick Hornum.
Viljami Kutvonen:
– What a race! I almost missed the final corner in the battle with Ronald in A2. Winning this event is a great achievement, and it's really good to see the outcome of so much work. I have been working for the last year getting this car and team on track, and it really starts to look good now.
Ronald Völker:
– I had to put lots of pressure on Viljami in A2, so on the last lap, I had to make the call and try something. I was ahead – just – but then the car started to slide a bit, so he ended up winning the heat. It's a little disappointing for me to finish second here. I want to win every time here in Odense, and I've had such a good history with this race so far. It was my first international success back in 2007, and it's just such a great event. I'll be back!
Patrick Hornum:
– P3 was the result I aimed for, so I am definetely happy with my result this year. I had a good start on friday, but the car became difficult to drive in the qualifying and A1 for that matter. I decided that I had to do something about it, and luckily it got better for A2.