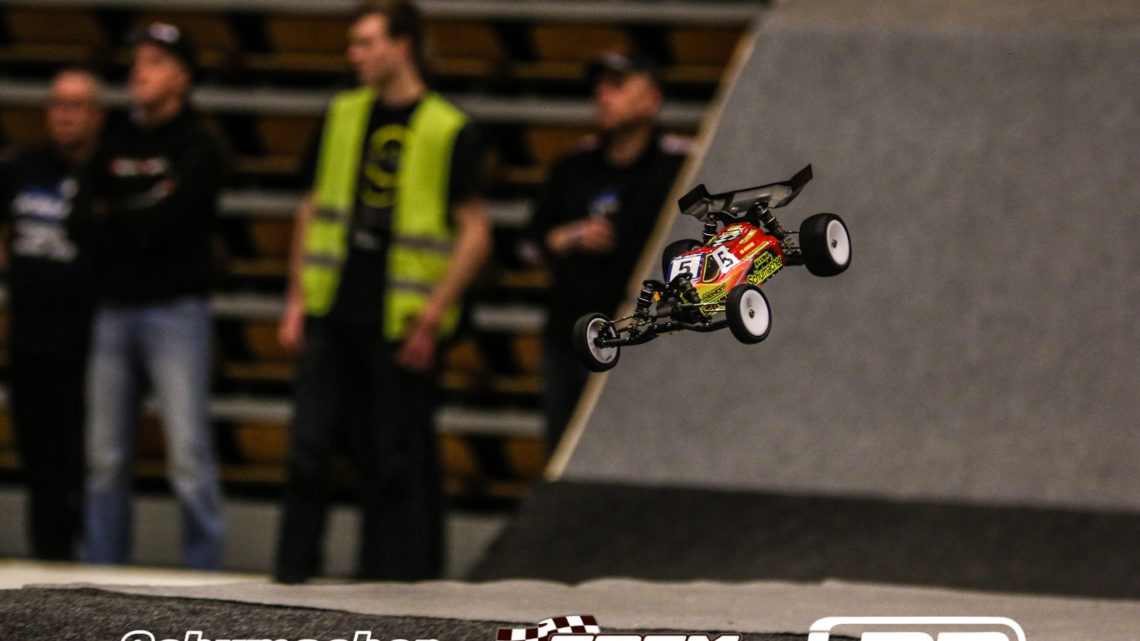 Jörn Neumann wins 2WD A1 after a dramatic heat
januar 13, 2019
If there is any english word that can describe the A1 Main in 2WD at DHI 2019, it has to be unpredictable. Setting off from pole position, David Ronnefalk only held the lead for one lap before rolling the car after an incident with P2 starter Jesper Rasmussen.
Rasmussen inherited the lead and kept it for some laps, while some strong opponents made their way from further down the field. Most notably, Marcus Kærup got off to an amazing start from tenth on the grid, quickly moving through to third, following Jörn Neumann in second place.
Neumann had a great battle with Jesper Rasmussen for the lead, and eventually Neumann made the move – and made it stick as well.
Back down in second, Jesper Rasmussen had to defend hard against a charging Marcus Kærup. The two local drivers ended up running into each other on the final lap, initially handing Kærup second place, but Rasmussen took back second place at the next corner.
Over the line, Jörn Neumann won his first heat of the day, followed by Rasmussen and Kærup. Hampus Berg made it to 4th, followed by Karri Salmela and Wilhelm Skjöldebrand. Jessica Pålsson finished 7th, while Elias Johansson and Pelle Culmsee took 8th and 9th.
David Ronnefalk retired after six laps, ending up in 10th.
Pos
Nr.
Pilot Nr
Pilot
Laps
Endtime
Besttime
Mediumtime
1
5
Jörn Neumann
17
5:01.048
17.720
18.058
2
2
Jesper Rasmussen
17
5:07.726
18.138
18.540
3
10
Marcus Kaerup
17
5:07.885
18.022
18.425
4
4
Hampus Berg
17
5:09.123
17.973
18.575
5
8
Karri Salmela
17
5:11.820
18.183
18.700
6
9
Wilhelm Skjöldebrand
17
5:12.208
18.118
18.640
7
6
Jessica Pålsson
17
5:14.144
18.414
18.778
8
3
Elias Johansson
16
5:01.389
17.997
19.313
9
7
Pelle Culmsee
16
5:03.512
17.839
19.155
10
1
David Ronnefalk
6
1:56.626
18.235
21.196