Patrick Folman takes Super Stock TQ after crash
januar 4, 2020
Having shown what initially was the quickest pace in class throughout the practice sessions Patrick Folman looked like a strong bid for the TQ honors in Super Stock. It didn't end the way the dane expected though – a big off in the first of five qualifying sessions cost Folman dearly, and he had to play catch-up for the rest of the day.
And so he did – rounds two and three both ended in wins for Folman, working hard to get back on the disadvantage of 50 points the crash ended up costing.
Martin Lissau and Steven M. Olsen both got off to a great start, Lissau topping the charts after Q1, but they swapped places as qualifying progressed. After three rounds, Lissau had 8 points to his name and led the standings ahead of Olsen with 9 points.
Session four subsquently ended out in another win for Folman, enabling him to secure the TQ – before winning the fifth and final run as well.
– Q1 didn't go to plan, but the rest ended up just the way I hoped, Folman said and added:
– It has been super close racing all day long. Q5 was probably the best session yet – Martin Lissau gained an advantage early on, but I managed to gain momentum and I was able to take back the lead. I know he made a mistake, but it felt good to gain some speed through the five minutes.
TQ for Patrick Hornum in Modified
Modified seems to be the domain of Patrick Hornum. The dane had a strong run through saturday afternoon posting three wins in a row and securing TQ before time. Yet, Hornum still has the feeling that there is more speed in the XRay than he has shown so far this weekend.
– I will use the final runs to test a few things. I know there is more to be had in the car, so despite being TQ for tomorrow, I'm not entirely pleased with my performance today. I made the switch to XRay a little while ago, and there are some points I want to improve on.
– That said, my target for tomorrow is to make a good start, win the first two heats and make it a win.
Starting second in Modified is Jakub Rozycki followed by Florian Joos, Mike Hansen and Mads Koue.
Heitsch storms to FWD TQ
Henrik Heitsch looks to be the driver to beat when it comes to the front wheel drive class. A solid win in Q1 set the tone for the rest of the afternoon where the german also won Q2 and Q3. Done and dusted, one could say, but Heitsch went on to win Q4 and Q5 as well.
Steven M. Olsen made it to P2 after a long battle with Dennis Fadtke, ending out with six and seven points respectively. Olsen managed to take P2 three times leaving him with six points while the german had to settle for third. Nicolai Nielsen starts in 4th while Jörg Westerhaus from Germany made it to fifth.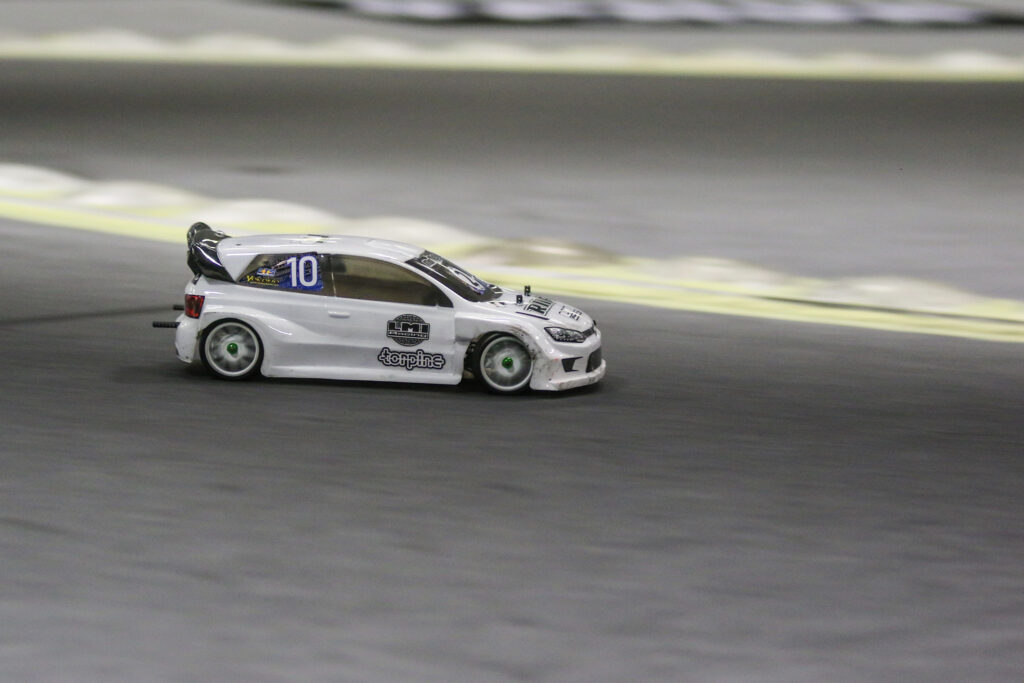 Jesper Rasmussen dominates F1 qualifying
Formula 1 was a fairly one-sided affair through the five sessions. Jesper Rasmussen took five wins in a row, followed by Kim Nielsen who ended up P2 after finishing second in all five sessions.
– I changed the gearing after practice 2. It helped a lot and gave my car a completely different balance than I had previously. Making it as top qualifier is great, and I can't wait to get racing tomorrow even though F1 is not the class I usually drive, the danish buggy driver says. He added:
– Kim Nielsen usually starts at a quick pace, but he has made some small errors here and there today. I think I've got a decent chance as soon as we get a few laps into the heats tomorrow – that's my plan anyway, Jesper Rasmussen says.
While Kim Nielsen starts in second place tomorrow, Alexander Bremer is in P3. David Hansen made it to fourth in a close battle with Søren Jeppesen, while it's Martin Jensen, Ulrich Rasmussen and Christer Rasmussen in sixth, seventh and eight place, while Tommy Udesen and Tommy Jensen made it to ninth and tenth spot.